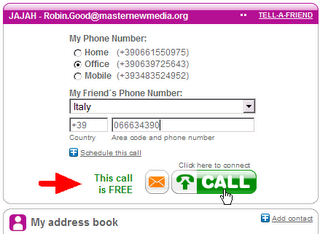 Here we go again. I`m with those guys since half a year and their services work. Now they come up with a new offer.
The new JaJah Free Global Calling program
launched today allows anyone living in the United States, Canada, China, Hong Kong, Singapore and Taiwan to make completely free of charge land line and mobile calls to and within those countries.
JaJah users in Australia, UK, Germany, France, Italy and most other European countries can call free any landline. The free service can be used by just about anyone who is a registered JaJah user (free).
Read the story @
Robins
or check in to
JaJah
directly.